As you know by now this site is commemorating those Swedish born soldiers who fought, fell in The Great war and are buried at the Western Front. At this moment I have 455 soldiers in my database within those criterias, which I have followed up with documents about the soldiers.
But it was so many more Swedish born soldiers who actually fought and fell at the Western Front, but are buried either in Sweden, North America, Canada, and in the UK.
At this day, November 11th, the Armastice Day, I have decided to include those soldiers as well in my research. I hope you will find it interesting to continue to follow me on my journey.
Below I will tell you the story about Oscar B Nelson, or Oskar Bernhard Nilsson born in Sweden, April 15th, 1880.
Oscar was born in the Village of Knäred, at the farm of Parken, in the county of Halland, Sweden, and raised by his mother Ingegerd Johansdotter and his father Jakob Nilsson, together with his siblings Carl Edward, Johan Leander and Anton Walfrid.
When Oscar was around 10 years old the family emigrated from Sweden to North America November 4th, 1890. They settled down in Wapello, Iowa, and from the census document you can read that their names changed, as they often did, when the Swedes went over to the states.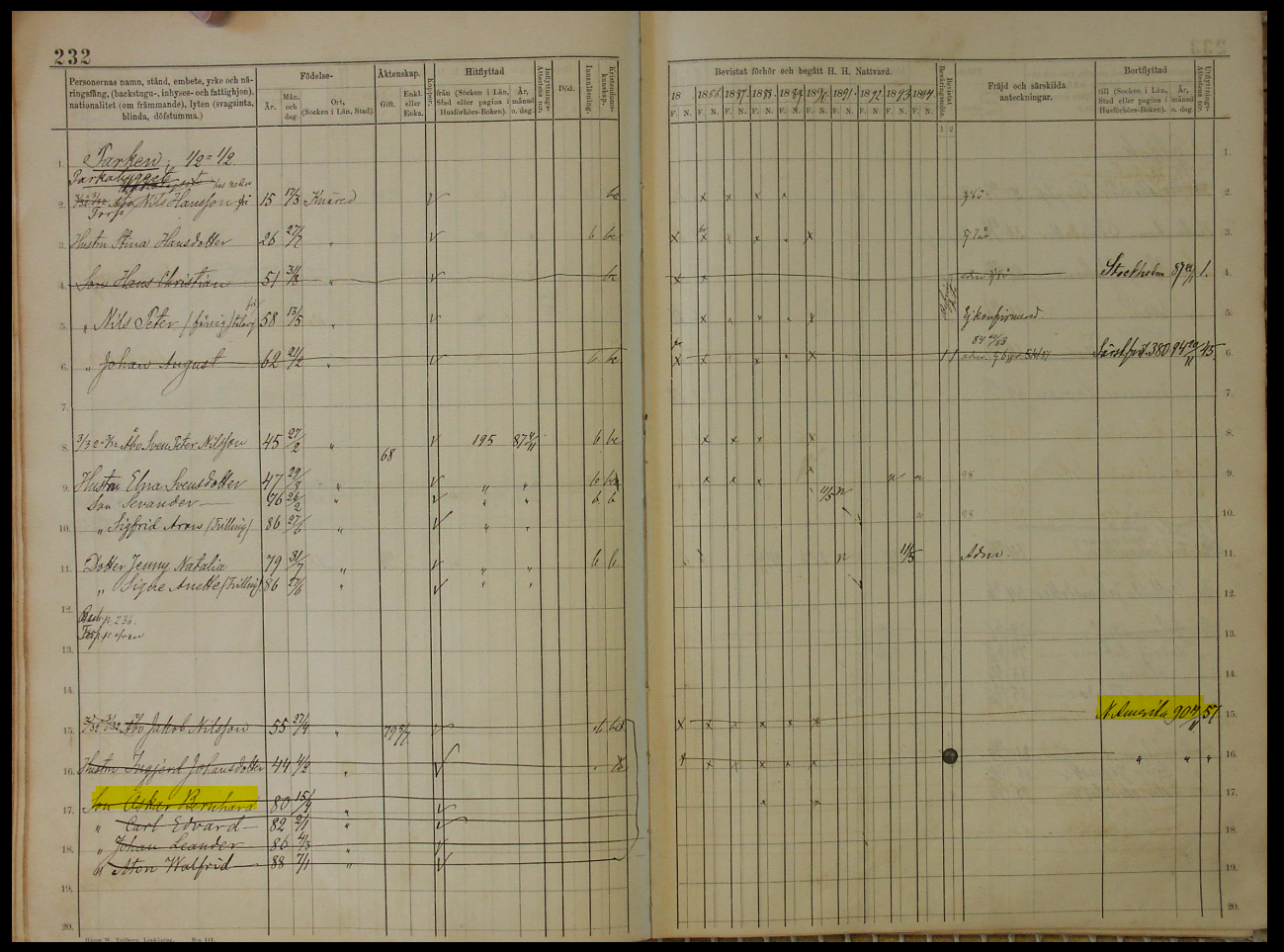 Jacob kept his name while Ingegerd became Ingrid, Carl Edward became Edward, Johan Leander became John and Anton Walfrid became Otto. I find it interesting, and it gives me also som information for future research when it comes to searching after individuals, especially those who emigrated to North America.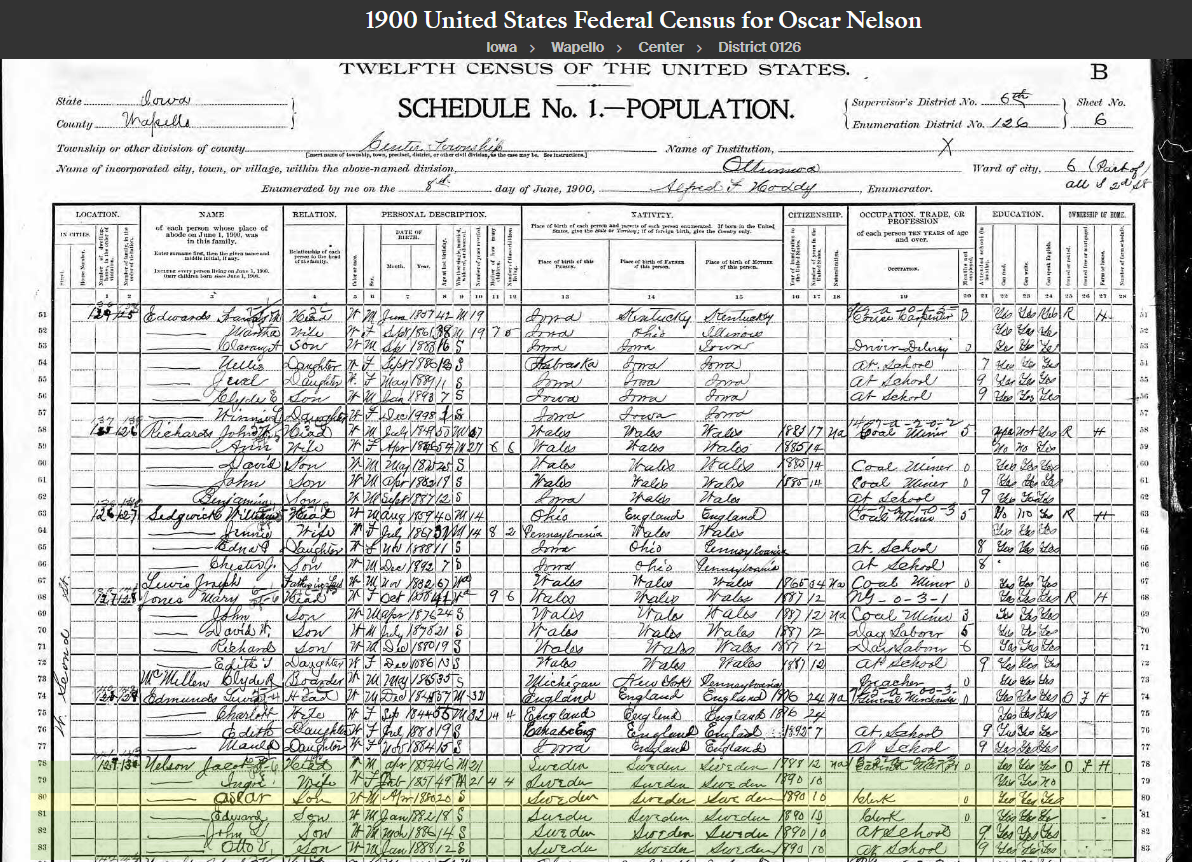 When it comes to Oscars period when he was drafted, I haven't found his Draft document, but he left US for France from New York City with the S.S BALTIO, White Star Line, November 23rd, 1917. At that time his rank was 2.nd Lt. His family and Next Of Kin lived in Ottumwa in Wapello county in Iowa.
Oscar belonged to 168th Infantry Regiment, 42nd Division, the Rainbow Division, American Expeditionary Forces.
At the date of his death, October 16th, 1918, his unit was fighting in the Meuse-Argonne offensive, and below you will find a snippet from the diary of 42nd Division. Oscar was severely wounded in action at LaTuilerie Farm, in France, and died from wounds.
His casualty card says that his rank was 1st Lt, but he was promoted to Captain while on active duty.
For his actions he was posthumously decorated by King Albert I, of Belgium, in the "Order of the Crown," or "Chevalier de I'Ordre de la Couronne," with rank of Chevalier, in recognition of heroic service. He was also decorated with the Distinguished Service Cross (D.S.C) by General Pershing. In the image to the right, below, you can read more about why he received these decorations.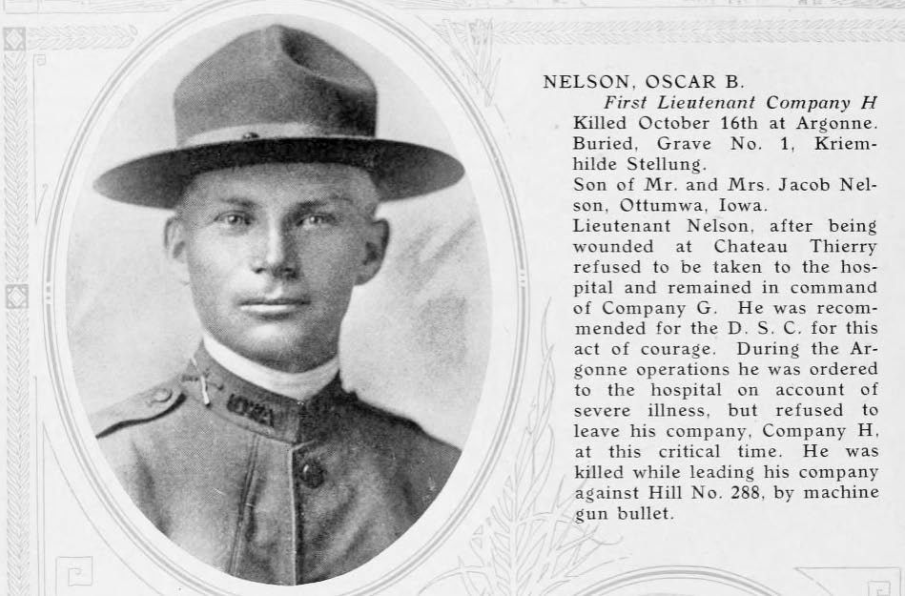 His body was disinterred July 23rd, 1921, and was transported to Iowa September 16, 1921. Oscar is now buried Ottumwa Cemetery in Wapello county in Iowa. May Oscar rest in peace.