This article has been presented in the Great War Group Magazine, may issue, 2022.
Swedish born soldiers in the frontline.
This is not the first thing you think of when you hear or read about the soldiers who fought and fell in the Great War, or as it is also called, the First World War.
Sweden, as a country, did not take part in any World Wars as it declared itself as a neutral country for these conflicts. There were a lot of reasons for that, but mostly because the political leaders at that time did what they thought was the best thing to do for the country.
One interesting source[1]from the time around 1924, tells us a story about a planned naval operation from Russia in the early days of August in 1914, led by the Russian Naval officer at that time, Von Essen. The operation started but was never fulfilled. That could have been one reason for how Sweden thought and acted in this matter.
It is easy to connect Sweden at that time to Germany and the German allies in the War. There are many articles to read about in several digitized newspapers[2] from the Great War Era. My own opinion is that Sweden at this time was ready to act along those who had Russia as an enemy, due to its former conflicts with Russia during the 18th century. That is of course not the whole explanation of the situation but explains some of how the political leaders in Sweden may have thought at that time.
We know one thing though. Many Swedes fought along with the other soldiers on different sides in the conflict, but they did it as individuals, either as volunteers or as citizens in their new country.
In my research about Swedes who fought and fell at the Western Front[3]in the Great War, I am looking into the individuals and connecting them to the different locations, where they fought and fell, and where they are buried. As you can read out from the name of the project it is mainly about those Swedish born soldiers who fell at the Western Front, but I am also following up those who fought at the other fronts as well.
In this article I will tell you the story about some of those Swedish born soldiers who fought and fell in the Gallipoli campaign. The focus will be about the individuals, and not about the campaign itself. I am sure you can connect the facts you can find in my article to the specific facts about the Campaign itself, from other sources.
Swedes in Australian Imperial Forces
In my research I currently have 415 Swedish born soldiers, of which about 50 are confirmed to be born in Sweden and fought for the Australian Imperial Forces (AIF). The first thing I am thinking about when reading about these soldiers is what was the reason they ended up on the other side of the world, to later become a soldier in the Australian Army. One thing that stands out in most of the soldier's background, those Swedes who fought for AIF, is that they were sailors from the beginning, back home in Sweden. It is then easy to make the connection that they decided to stay in Australia when they passed the country on their routes, when they sailed around the world.
There are also a lot of Swedes born in Australia by Swedish parents, and these second-generation Swedes also took part in the conflict as soldiers in the AIF. But in this case, I will tell you the stories about three of those who were born in Sweden and became naturalised Australians. Among these three I will also tell you the story about one Swedish officer from the Swedish Army who decided to join the French Foreign Legion. He became injured in the fighting in the Dardanelles, but he is buried in France. The other three are buried in Turkey.
437 Private Ernest Lindell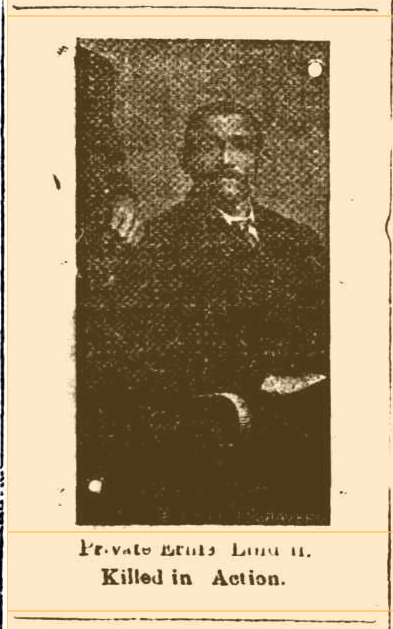 Ernest Lindell (Ernst) was born in Billeberga parish, Helsingborg, Sweden, on May 5th, 1882, and was raised by his parents, his mother Elna Larsdotter and his father Olof Andersson Lindell. He also had three siblings named Ivar, Gottfried, and Althea.
In the Swedish church book, it is noted that Ernest was absent during the years 1905 to 1915, and his date of death is also noted, just one day before he would turn the age of 34, May 8, 1915.
He was a sailor and belonged to the Helsingborg Naval Corps, but left the Corps for some reason in 1902, at an age of 20. There are no notes about if Ernest did his conscript period in Sweden. It was quite common in these times that the young Swedes did not want to do their conscript, and I see that pattern among many of the other Swedes that I have in my research.
The Naturalisation papers[4] from Australia tells us that he arrived in Australia around 1904, in Fremantle near Perth in Western Australia, after having arrived from South America. It looks like Ernest worked as a miner during his time in Australia.
Ernest filled in his registration form for AIF on September 20, 1914.
He belonged to the 16th Infantry battalion and the papers don't tell us so much about his situation in the battle, but according to the diary,[5] his unit took part in the raid on Gaba Tepe (Landing at the Anzac Cove) which took place May 4th, 1915 which became a failure. It is stated that he was wounded in his thigh by a bullet and that he had a fractured finger in fights during the days after this battle, probably somewhere in the same area. He was transferred to H.M.H.S "Gloucester Castle" and died from his wounds May 8th, 1915, on the ship.
Ernest is mentioned at the Lone Pine Memorial in Turkey. He received the 1914-15 Medal, British War Medal, and the Victory Medal, which were sent home to his relatives in Sweden.
720 Private Frank Applequist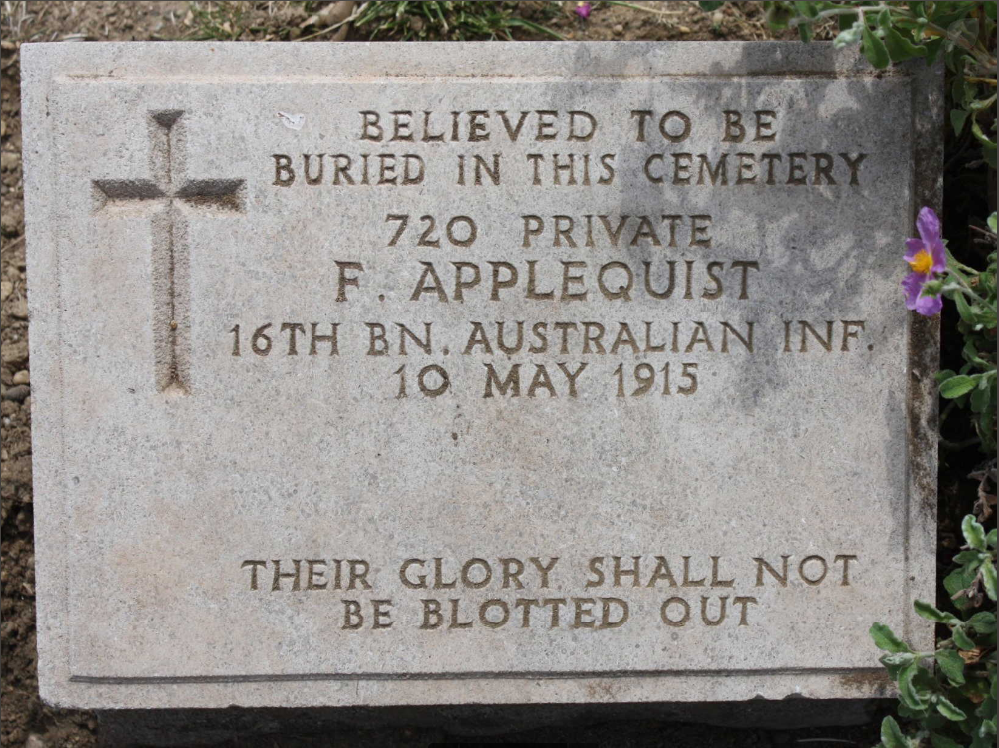 Frank Applequist (Frans Ludvig Appelqvist) was born in Landskrona parish, Sweden, on July 14th, 1880, and was raised by his parents, his mother Emelie Charlotta Karlsson and his father Ludvig Lindstedt Appelqvist. He had four siblings, Jenny Sofia, Carl Alfred, Augusta Mathilda, and Hulda Fredrika.
The Swedish church book notes that Frank received permission by the King of Sweden to leave the country, which was required by the law at that time. It is also recorded that he left for Australia in 1908, after completing his conscript period in Sweden, which he did in 1901, age 21, at Norra Skånska Infantry Regiment. He belonged to Landskrona Naval Corps but ended his duty in 1898, and it can be the experience from that time that made him a sailor, which later became his profession.
The Naturalisation papers from Australia says that he applied in 1913, after having arrived from New Zealand in 1910, also to the port of Fremantle, near Perth, Western Australia. He worked as a Sleeper Hewer and as a sailor before he was enlisted in October 1914.
Frank was registered with the AIF just a few days after Ernest, on September 25, 1914, and belonged to the same unit, 16th Infantry battalion. The documents state that he became wounded on April 28th, 1915 and the diary, which is very hard to read, says that the unit was around Gaba Tepe. He could have been part of the first battle of Krithia, which started on April 28, 1915, but it is impossible to read out from the diary.
Frank is wounded in action, and it doesn't say in which way, but after he died of his wounds, he is taken care of and buried at Courtney's and Steele's Post cemetery in Turkey. In his papers he has mentioned his mother Emelie as next of kin who by that time lived in Kristianstad, Sweden.
He received the 1914-15 Medal, British War Medal, and the Victory Medal.
1350 Private Victor Grundstrom
Victor Grundstrom (Viktor Einar Adolf Grundström) was born in Söderhamn parish, Gävleborgs län, Sweden on March 29, 1883, and raised by his mother. His father is unknown, and at that time it was sensitive matters. He moved from Söderhamn and lived in Gräsmark, in the landscape of Värmland, when he left for Australia. I can read from the very vague notes in the church book that he did not have permission to leave the country, but it is also a large question mark besides the notes, and he is also noted in the books of absent citizens.
On another page in the church book, there is a note about that he has fallen in the War, in Egypt, and died in 1915. These notes are also very vague, but we know that it is true, and connects Victor Grundstrom in the church book to the other military related facts I have about him.
The first papers connected to him and Australia are the papers about his application form of Naturalisation from 1911. He states that he arrived from England in 1909 to the port of Fremantle, near Perth, West Australia. He worked as an engine driver before he signed the registration form for the AIF on September 30, 1914.
He is enlisted in the 11th Infantry battalion, from the 2nd reinforcement unit, and the casualty papers say that he is Killed in Action May 19th, 1915.
The unit diary is telling us about a quite hard situation, there are no notes of dates between May 15th and May 20th, only the text of the activity. It's about how the unit took over the trenches and how the enemy did some raids during the night. There is also a note about how they received reinforcements during this period of five days. The location Gaba Tepe is also mentioned, from the dates around May 9th.
Victor is buried in Lone Pine cemetery in Turkey.
These three soldiers participated in the fighting in Gallipoli which took place between February 1915 and January 1916, and they seem to have been involved in the actions which took place around Gaba Tepe on the Peninsula of Gallipoli.
In addition to those above-mentioned soldiers, I will also give you the short story about the Swedish officer who participated in the fighting in the Dardanelles but did this together with the French Foreign Legion.
The story about 12284 Private First Class Pascal Bergman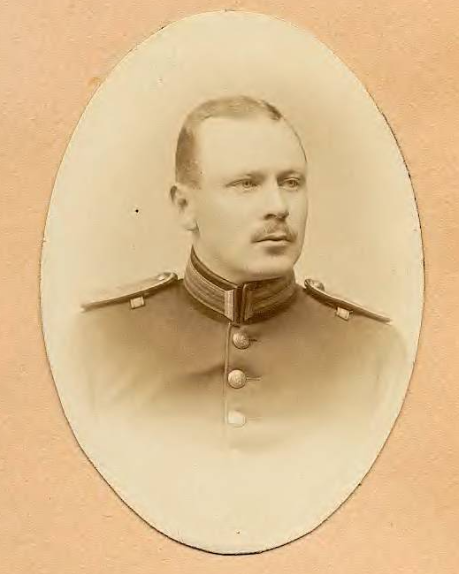 Pascal Bergman (Paul Pascal Bergman) was born in the Stockholm parish, in a department called the Finnish department, but his parents or family have no connection to Finland, as far as I can see in the church book. He was raised by his parents, his mother Hilda Thingvall and his father Paul David Bergman. He had nine siblings, Henrik Johan, David Fredrik, Henrika Paulina, Emanuel Frans, Elisabet Gilberta Sofia, Davida Henrika Ingrid, Carl Stephan and Sally Johanna Teresia.
Pascal is stated as an officer in the church books, he has the rank of lieutenant in the photo book from the Swedish Armed Forces collection. He worked at Älvsborgs Regiment in the Western part of Sweden, but there is very little to find about him, when he left Sweden, or why he left the army and went to the Foreign Legion.
In digital newspapers from 1916 I find information about that he left the Swedish Army in 1911 and in autumn of the same year he joined The French Foreign Legion. He quickly stood out, being very determined in his way of acting in different situations and he had a clear path in front of him in how to succeed in his profession and climb in the ranks.
He didn't tell anyone of what he did or where he was, he kept a lot of things by himself.
He belonged to the 1st Regiment Marsché d' Afrique and had the rank of 1re Class. It means that he at least had served more than 10 months in the legion.
The article in the digitized newspaper also mentions that he wrote home to inform his relatives that he had a "minor" injury and for the moment was in Nizza (Nice) in France. The relatives understood from the letter that he probably was slightly injured perhaps from battle, but he also wrote that he was quite sure that he should go to the front again, without mentioning which front.
The article mentions that he died from wounds received in the Dardanelles, and maybe he was participating in the fighting in Gallipoli. Some of the units from the French Foreign Legion went ashore at "Beach S" in Morto Bay east of Sedd El Bahr, April 28th, 1915.
The form from his unit mentions that he died from "Maladie", from disease, November 21, 1915, in Toulon, France, and he is buried somewhere in Toulon, but there are no facts about in which cemetery he is buried.
It was and still quite common for Swedes to join the French Foreign Legion, and there are many stories untold in this matter. Even today Sweden and France have a very intimate cooperation when it comes to Special Operations for example in Mali.
Observation
One observation I do when exploring the documents of each soldier that I have in my research is that Swedes who became soldiers and fought for Australia or New Zealand often came from a shipping or naval background. If you read their health declarations it is very often mentioned about their tattoos, which correlates with the thoughts I usually have about sailors in general. In the case of the soldier Grundström though, it is interesting to read that there is no tattoo mentioned in his case. Very unusual.
Sadly, I also very often find information in these specific documents that those individuals have an attitude towards their superior officers, which often leads them into situation where they are punished, either with prison, or financially. I can see a small pattern here, that those who joined the army for New Zealand often had a rougher background than those who joined the AIF, but these observations are my own, and not based on any empirical studies.
It would be interesting to find out if their backgrounds as sailors affected them on the battlefield, among other soldiers without that background. Did they act differently, in a positive or negative way?
Based on the information about Paul Bergman, the Swedish officer who joined the French Foreign legion, it is easy to think that he wanted his experience on the battlefield to sound more interesting than it maybe was. In a news article I read about that he seldom told his relatives about the life in the legion, and that he also wrote about his minor injury that he got. The French documents mention that the cause of death was disease or infection, that he sadly died from, and maybe he thought that could have an impact on the external picture of his personality, if he told them the truth?
We will never know if it was like that, but it is interesting because this is also patterns that we experience in our modern army today.
In my research I use a combination of archives to explore digital information and combine the different kinds of facts that I get and put them in a context.
One much valuable source is digitized newspapers that sometimes provide the missing link or piece of information that makes the story complete.
My intention is to in the future provide you more information about the part that Swedish born soldiers took in the Great War between 1914-1918, but that is another story.
---
[1] Det ryska anfallsföretaget mot Sverige år 1914 – Kommedörkapten E.Björklund, Stockholm. Veckojournalen 1924.
[2] https://newspapers3.mnhs.org/
[3] https://www.westernfront.se/
[4] https://recordsearch.naa.gov.au/
[5] https://www.awm.gov.au/collection/C1338583