As you know I am doing a research about those Swedish born soldiers who fought and fell at the Western Front in the Great War. Sometimes I open the door to look up those Swedish born soldiers who fell in the Second World War, just because I find it interesting but also to see if there are things to compare between these two groups, such as reasons, emigration and other things.
I have plans to also try to find if any family members of those soldiers who fell in the Great War, fell in the Second World War, but that will be another story.
If you search in some archives you sometimes have to try different alternatives. One way, in this case, is to start to search using the word "Sweden", but that only works if the word is present somewhere in the text connected to the documents in the database. Often you get results connected to addresses in other countries instead of place of birth for the soldiers.
I will give you an example.
I was looking through the Canadian archive and found 511 inputs related to the word "Sweden" in the database containing military data regarding WW1, and 3 hits related to WW2. I have already, through my research, looked into those hits connected to WW1.
The individuals I find have the word "Sweden" somewhere in the description.
I decided to use another method by searching through a common Swedish surname like "Bergman" and then I get a hit on Carl Alfred Bergman, who I decide to check up on Ancestry. He is not born in Sweden but may have relatives connected to Sweden.
In the picture below you will see the name Bergman, but under his name I see a "Bergquist". I haven't seen Bergquist when searching in the Canadian Archive using the word "Sweden", but will search for "Bergquist" instead.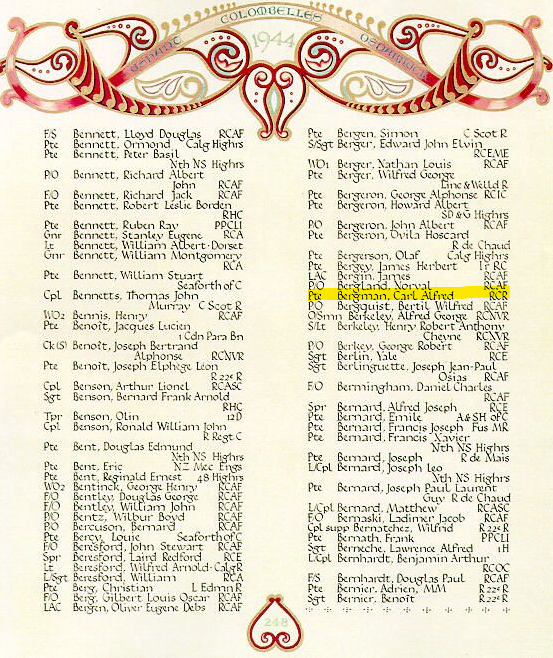 I made a search for Bergquist and I found Bertil Wilfred Bergquist. That name looks Swedish and I decided to search for him on Ancestry, and there I found out that he is born in Sweden!
What does this mean? It means that you can't give up when searching through some archives, you have to try different ways and methods.
Below I will tell you the story about Bertil.
Bertil Wilfred Bergquist was born in Sweden September 12, 1921 in the parish of Loshult in Skåne, and was raised by his mother Valborg Evelina Nilsson and his father Olof Wilhelm Bergquist. Bertil's Swedish full name is actually Bertil Walfrid Bergquist, but he decided to change Walfrid to Wilfred, for some reason.
His father Wilhelm left Sweden for Canada in September 1923, and Bertil left later with his mother in May, 1924, giving some time to his father Wilhelm to create a Homestead in Cadillac, Quebec, Canada, before rest of the family arrived. Probably Bertil's sister Greta Annalisa joined Bertil and his mother.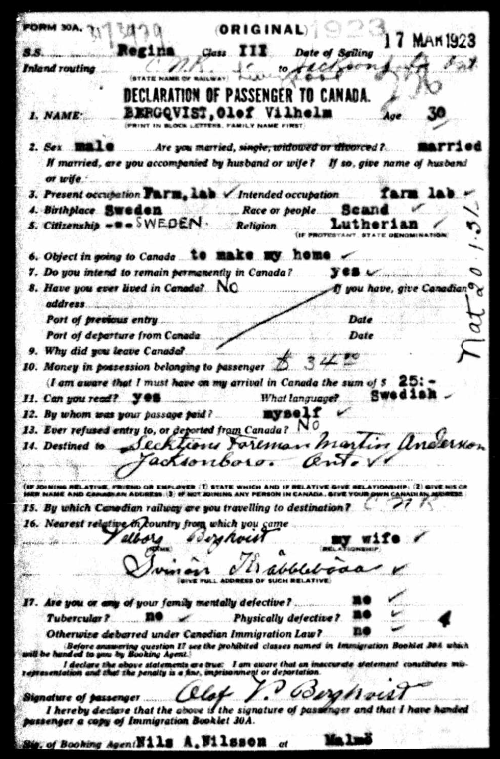 If you look closely in the document to the left you will see the location in Sweden, "Svinön, Kräbbleboda" where they lived before leaving Sweden. You also see the location of "Svinön" on top in the document in the middle.
Bertil was recruited in North Bay in Ontario, and it is interesting to read the notes from the interview, which you can find in the image to the left below.
Unfortunately Bertil lost his life during a mission over Germany a night in February 25, 1944. You can read about the situation through the documents below, and you can also see that he bacame a pilot officer February 23rd, and received his Operational wings for Gallantry after his death, which the family received through a letter with information in 1946.
Bertil and some other crew members was buried at the crash site in Germany, but Bertil is now buried in the final resting place in the village of Durnbach in the southern part of Germany. In the documents below you can read the inscription in German, from the burial site in Germany.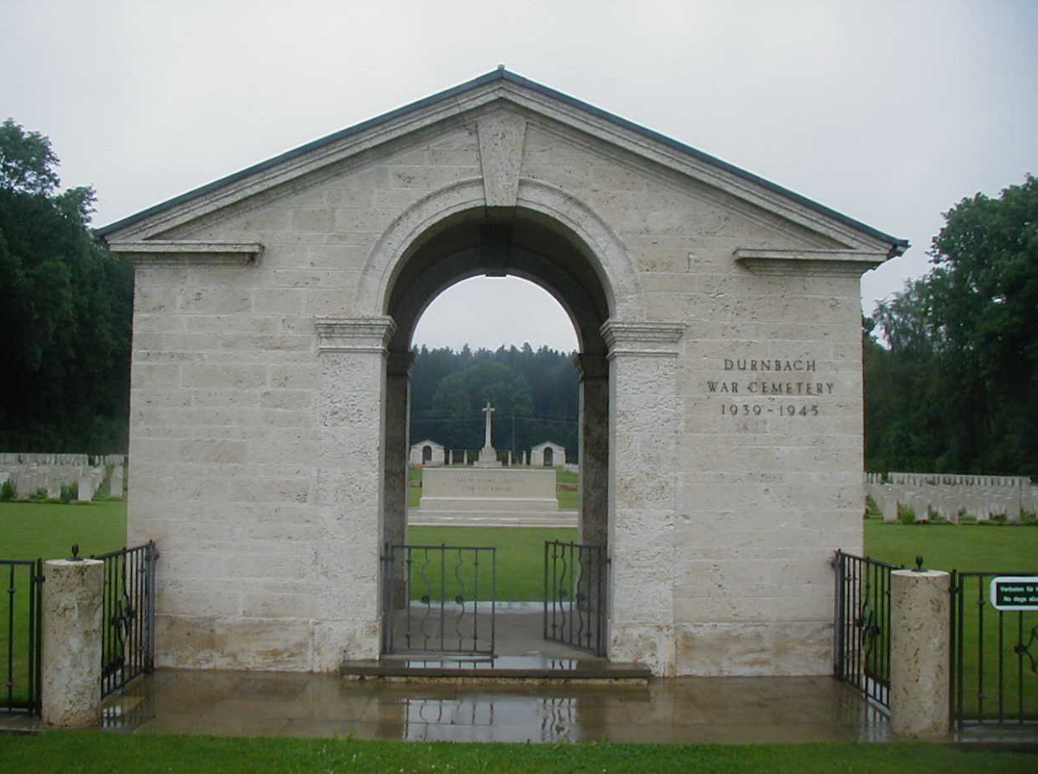 Bertil was one of many flight crew who lost their life at a very young age, and I am really trying to understand how it must have been inside the plane when getting hit, but not having the possibility to bail or do a controlled crash landing.
May Bertil rest in peace, you are not forgotten.