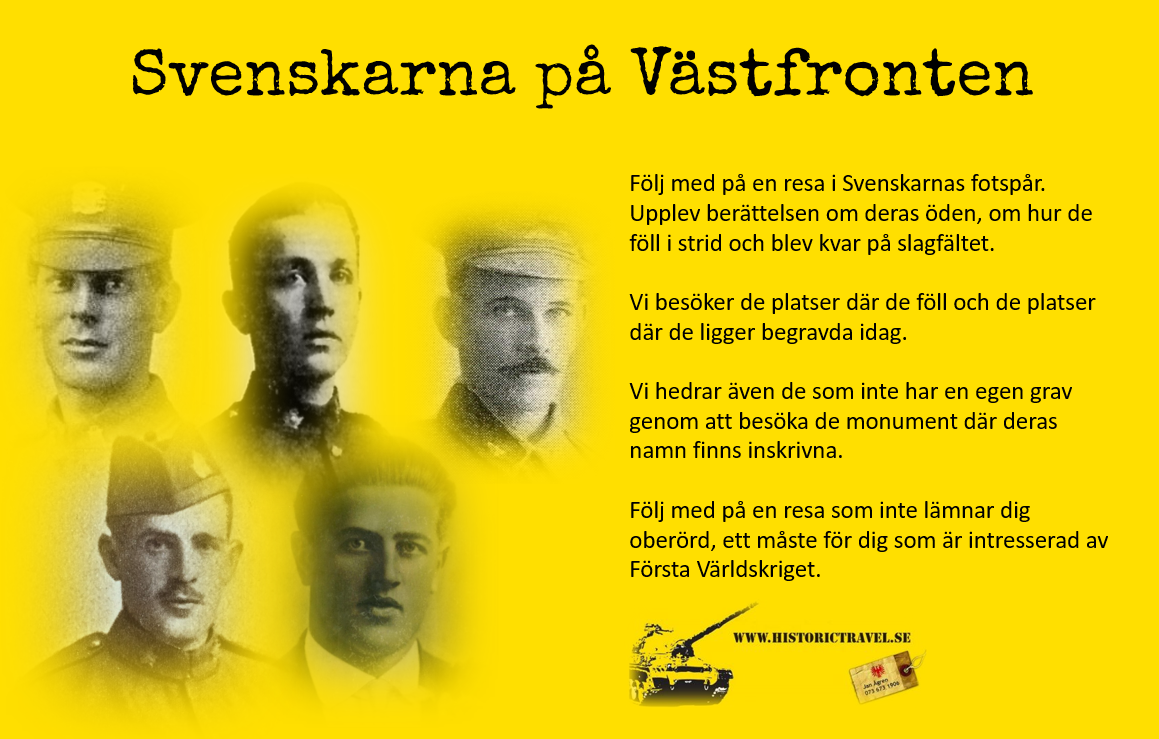 The plans started late 2021. I got a question from a friend, if it would be possible to make a historical trip down to Belgium and France, based on my project. I got the task to make some kind of draft for a program which spanned between 4-7 days.
Later on, in summer 2022, we met up again, and draw the basic line for the upcoming trip, which we decided should take part in spring 2023.
We decided to make a four day trip, based on areas between Ypres and Arras-Cambrai-Iwuy.
I thought we would have around 15-20 participants, but later on turned out to be 35 individuals all along. In february 2023 I was able to have a talk about my research, and in that weekend I mentioned the upcoming trip, and many of the participants also took part of that talk, which was a really good start for them, and for me.
The day came, March 31st, when we gathered from different airports in Sweden, down to Zaventem i Brussels, Belgium. All flights were in time, first step cleared, and all the participants were there! Great start!
My basic outline of the 4-day schedule contained a track as follows, and was a geographical schedule, more than a chronological.
Ypres-Lys offensive 1918 – Swedes in American Expeditionary Forces. (AEF)
Palingbeek – fights in the Bluff 1916.
Ypres – Swedes at Menin Gate Memorial and Last Post ceremony.
Messines Ridge – Swedes in the June 7-8 fightings 1917.
Passchendaele – Swedish Australians, New Zeelanders and Swedish Canadians in the fightings late 1917.
Sanctuary Wood – Swedes in the battle of Mount Sorrel 1916.
Vimy Ridge – Swedish Canadians in and about April 9, 1917, and Swedes at Vimy Ridge Memorial, not forgetting the Swedish memorial sign on the Maroccoan Memorial west of the large Canadian memorial, commemorating the Swedes in the French Foreign Legion.
100-days offensive – Swedish Canadians late 1918 from Arras to Iwuy.
In addition to the places mentioned above, we also visited a lot of cemeteries connected to the different sites, where Swedes are buried and commemorated. We also went through some WW2 actions around Arras, when in the area.
The weather was really bad the first two days, but we managed to survive, and the last days we actually saw and felt some sun!
All in all, I am very pleased about the result, and I have a really good feeling after my first trip as a guide, and of course I want to do this more times! It was reaaly fun and I picked up a few lessons learned for the future!
Always a bonus as well to meet some of the persons that I follow on Twitter, to finally see them in real life! Nice to meet you Jon Wort and Bart Debeer!
Thank you very much to my companion and veteran in organizing historical trips, Jan Ågren at Historic Travels who made all the logistical arrangements, such as coach and flights, and thank you very much to all the participants who made this trip possible!
When do we do our next trip?
Next part of following in the footsteps of the Swedes will preliminary take part in April 2025, where we will go down in the area between Somme and Argonne in France, to follow the Swedes who fought for the Americans.
Looking very much forward to that! And if anyone wants a Swede on their own tours, adding some fates of Swedish born soldiers in the WW1, just let me know! 🙂
Below some photos from the trip, with a mix of authors, participating in the trip.