"On the following day these units continued their advance to the road running from Sivry-sur-Meuse to the Villeneuve Farm, but at dusk a powerful attack delivered
against their right flank forced a retirement to the Tranchee du Cable
just south of the Bois de Chaume, Reinforcements were immediately despatched
across the river and by an attack on the morning of October 10th regained
all ground lost, which was subsequently held notwithstanding that the
right flank remained exposed for four days."
(Brief Histories of Divisions, U.S. Army 1917- 1918.)
"The following day" mentioned above was October 9th, 1918. One day later John H Erlandson was killed in action, and before the fightings was over in the specific area, also Elof H Johnson was killed.
We don't know if John and Elof knew eachother, but it is highly likely that they did. They fought in two different companies in the 131st Infantry Regiment, 33rd Division, in the American Expeditionary forces, when they finally met their destinies in the Argonne area in France during fearceful fightings against the enemy.
They ended up in the same field cemetery before they were moved to their final resting place, the American Meuse-Argonne Cemetery.
But they were not the only Swedish born soldiers in that field cemetery.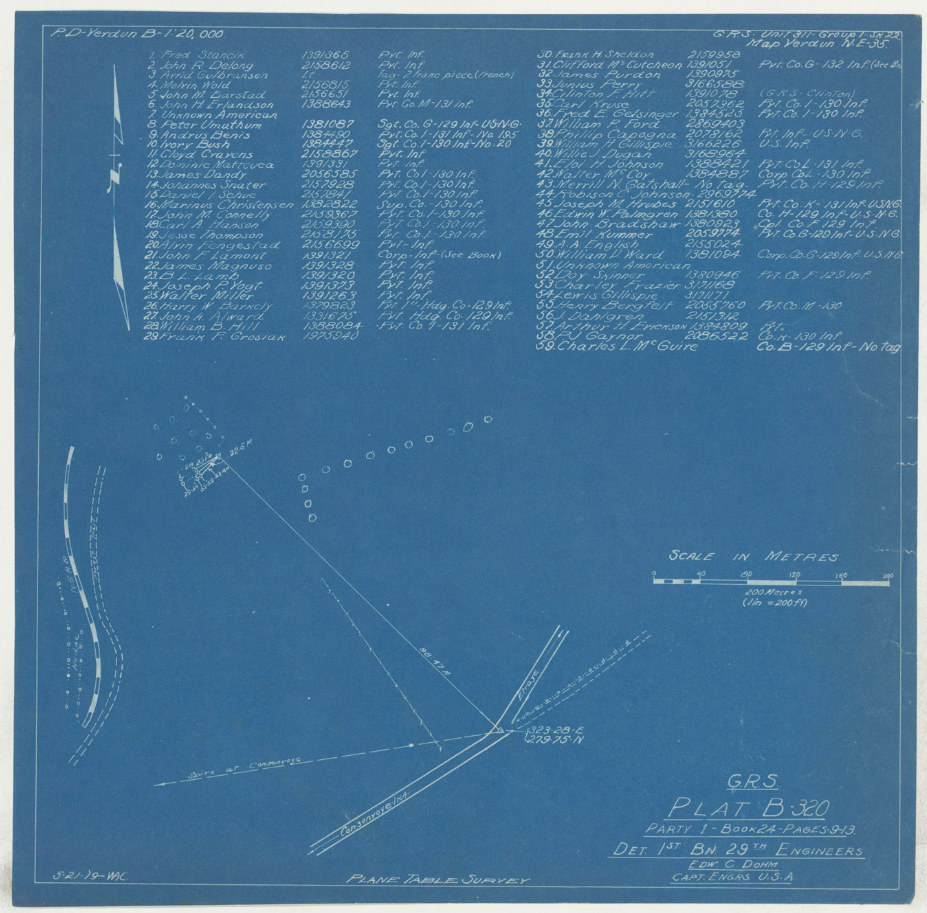 John H Erlandson, or Johan Herman Erlandson, which was his name when he lived in Sweden, was born in November 27, 1887, in my home town of Jönköping, in the western part of the town. He was raised by his mother Eva Mathilda Ring and his father Johan Peter Erlandson.
Some of Johans siblings had moved to North America before him, and Johan followed in their path June 11th, 1910. It looks like Johans mother Mathilda died already in 1903, but his father died later in 1938. Johan mentioned his brother Axel Birger Erlandson as his next of kin in his papers.
Johan signed his draft June 5th, 1917 in Chicago, Illinois, and it was also here he lived before he went on training with his unit. The 33rd Divison was organized in Fort Logan, Texas, in July 1917, and Johans unit, 131st Infantry Regiment, went in under the 66th Brigade.
Elof H Johnson
Elof H Johnson, or Frans Hjalmar Elof Johannesson as he was called in Sweden, was born October 24th, 1891 in Pjätteryd parish, quite close to the town of Älmhult. (Most famous to be the founder city of the Swedish furniture company IKEA).
Älmhult and Jönköping is not far from eachother, around 130 km, but at that time the travel between those two cities could be quite long. Elof is also mentioned as Olof or Elaf in some documents, which makes it a bit tricky when trying to find information in digital archives.
He was raised by his mother Sara Kristina Salomonsdotter and his fatherJohannes Jonasson. Elof went to North America in 1911, and it looks like that he was the only one in the family that moved to the large country in the west. Elof signed his draft in June 5th, 1917, also in Chicago, Illinois, and maybe John and Elof met eachother in this situation?
Elof and John went over to France with their units, John with company M, and Elof with company L, on the same ship, LEVIATHAN, in May 2nd, 1918. The first units from the 33rd Division went over in May 1918, and the last units reached France in June, 1918.
The 33rd Division trained together with the Brits near the town of Abbeville. In September they acted as the right flank of the 57th French Division.
During October the 33rd Division constructed bridges over the Meuse in quite exposed circumstances under heavy shelling.
On October 10th, John was exposed for heavy shelling and these are the words from 1st Sgt O'Keefe, Company M:
"Pvt. Erlandson was killed instantly by the concussion of a shell. It occurred on the morning of Oct. 14, 1918. We were at that time in the trenches, in rear of Consenvoye, France. He was preparing his breakfast at the time."
It was assumed that John was killed during October 14th, but was later changed to October 10th, according to the information on the casualty card.
There is no known information about how Elof was killed, but both John and Elof was buried in the same field cemetery. John was buried October 16th, but there is no info when Elof was buried. John was disinterred April 21st, 1919, the day before Elof. Both were moved to the American Meuse-Argonne Cemetery, buried on the dates mentioned above.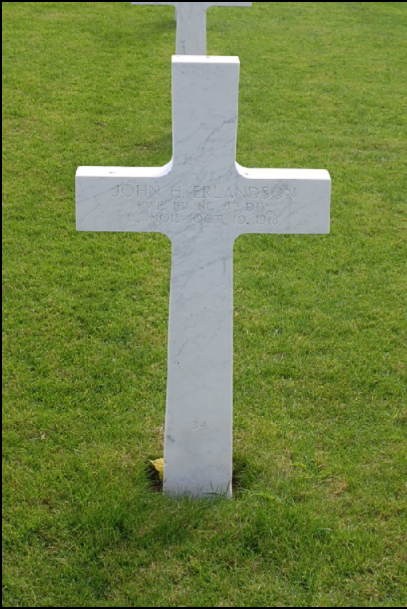 On the same day as John was disinterred, thare were also another Swedish born soldier disinterred from the same field cemetery. He was John A Dahlgren, or Johan Alfred Dahlgren as he was called in Sweden, born in Hällsjö parish in Jämtlands county., September 28, 1888.
He left Sweden with his family at an age of 2, and lived in Minnesota, in Kanabec county. John Dahlgren was killed in action on the same day as Elof, when fighting for the 129th Infantry Regiment, and buried in the same field cemetery as both John and Elof.
He was shipped backed to the US and are now buried in Kanabec county in Minnesota. You can find his name in the cemetery plan mentioned in the beginning of this post.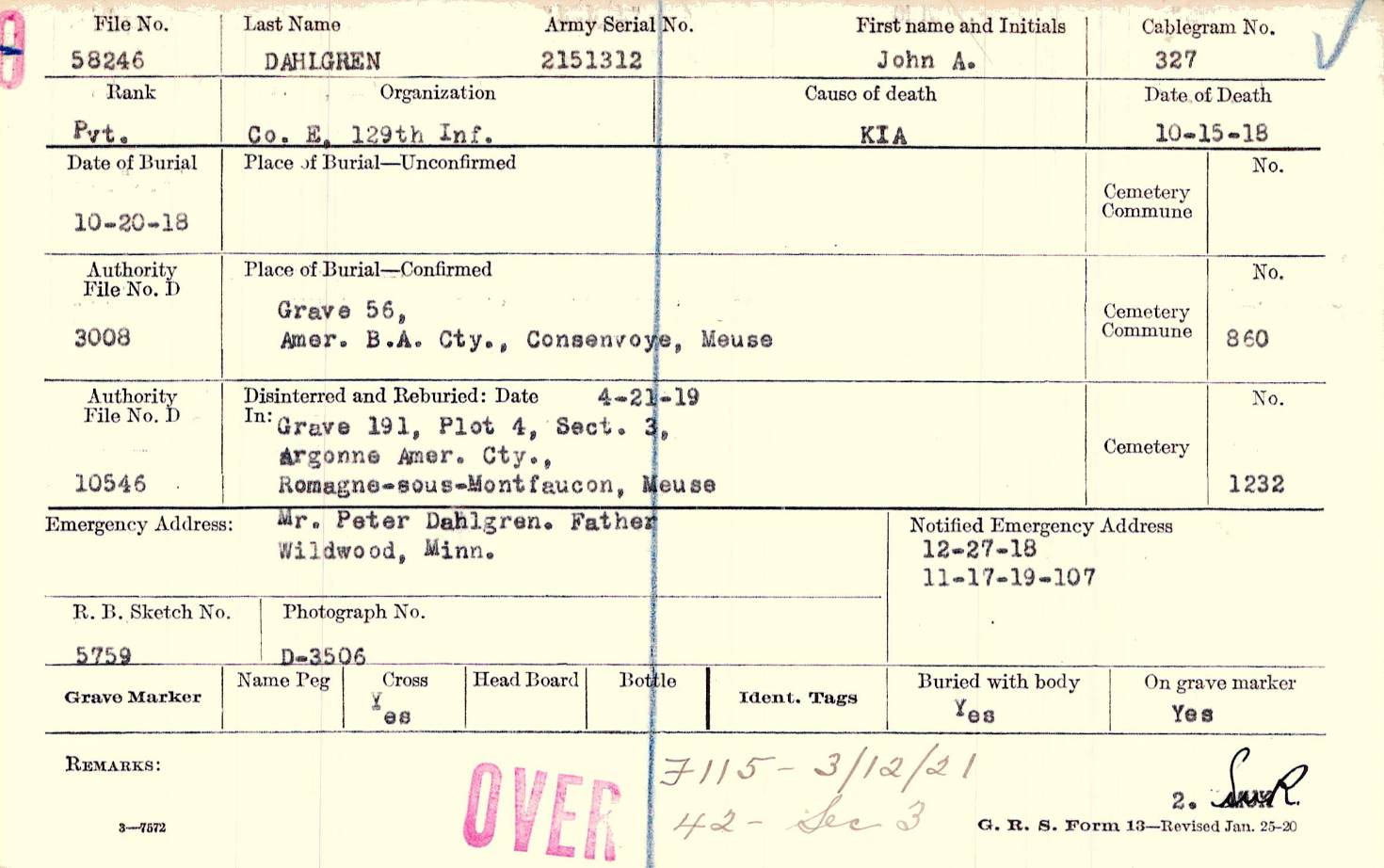 There are a lot more Scandinavian traces all over the Argonne area, and it will be so exciting to finally visit the area this summer.
May the soldiers Erlandson, Johnson and Dahlgren rest in peace.
These are a few of many Swedish soldiers who fell in this part of the Western Front and I will do what I can to mention their stories, of how they gave their lives for their new country in the First World War.