Finding a photo of those soldiers I have in my research is always interesting. In this case I got a message from one of my followers which contained some files and photos of some of those soldiers who fought in the French Foreign Legion.
The photo contains individuals from both Denmark, Norway and Sweden, and it was also explained who each individual was, where they came from and in some cases where and when they fell.
It has been very hard to find photos of the Swedes who fought and fell for the French Foreign Legion, but through this message I can now add faces to some more of the Swedes that I have in my database.
The Swedes who fell for the French Foreign Legion are commemorated outside the Swedish Church in Paris.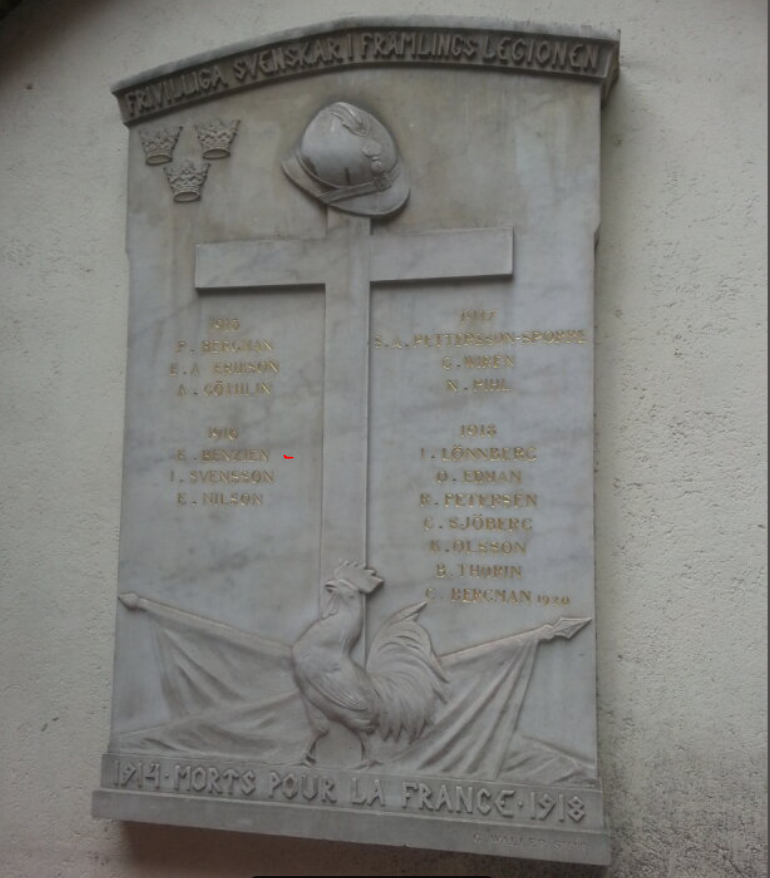 Below you will find the names of those 16 Swedes who fell. It is estimated that around 40-50 Swedes in total served for the French Foreign Legion in the Great War.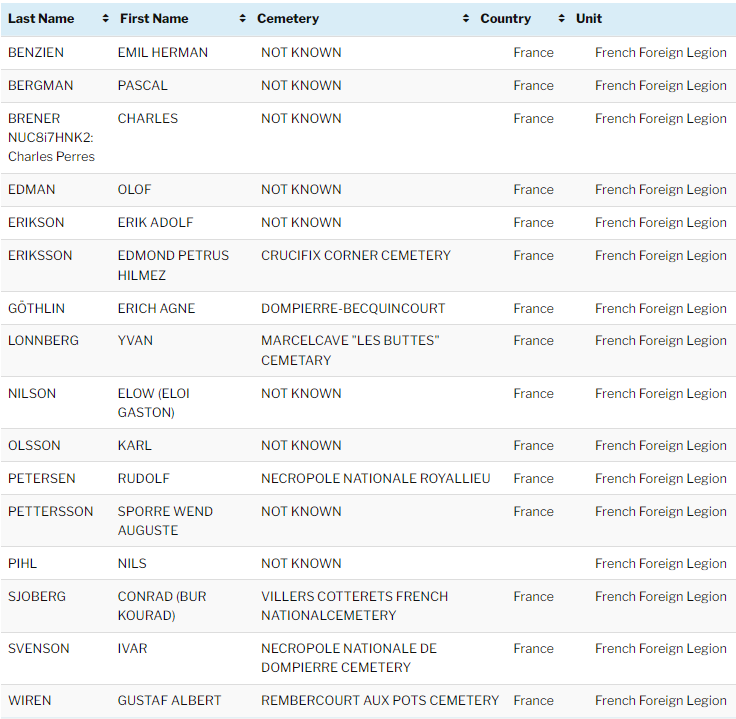 Below you will find some basic documents connected to each individual. Some snippets are from Swedish newspapers, others from the Swedish church books.
Emile Herman Benzien (Emile Herman Benzeen)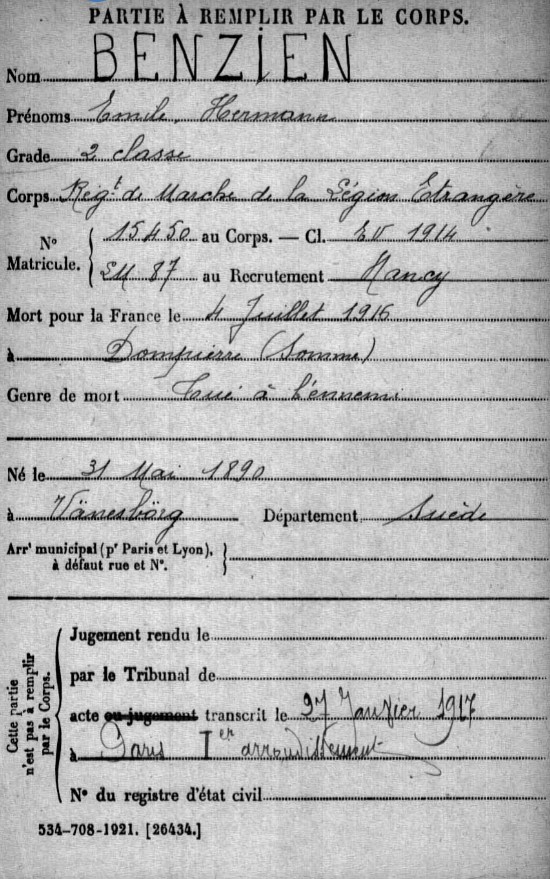 Pascal Bergman (Paul Pascal Bergman)
Charles Brener (Herman Perres Bremer?)
Olof Edmann (Olof Edman)
Erik Adolf Erikson (Erik Adolf Eriksson)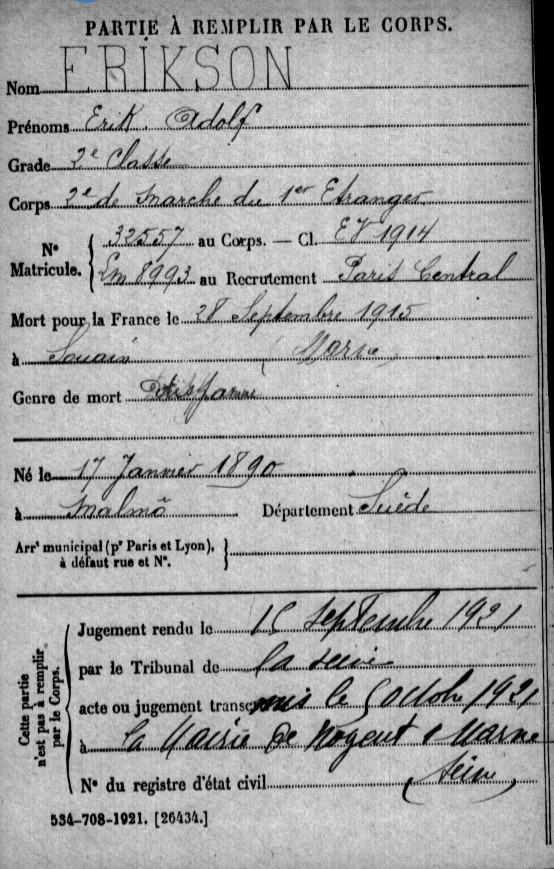 Edmond Petrus Hilmez Eriksson (Edmund Petrus Hilmer Eriksson)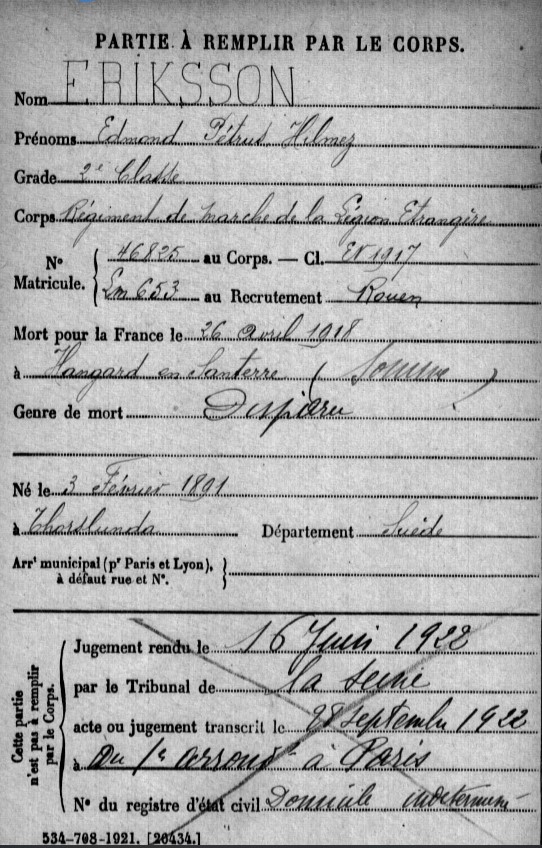 Erich Agne Göthlin (Agne Walter Erik Johansson)
Yvan Lonnberg (Ivan Lönnberg)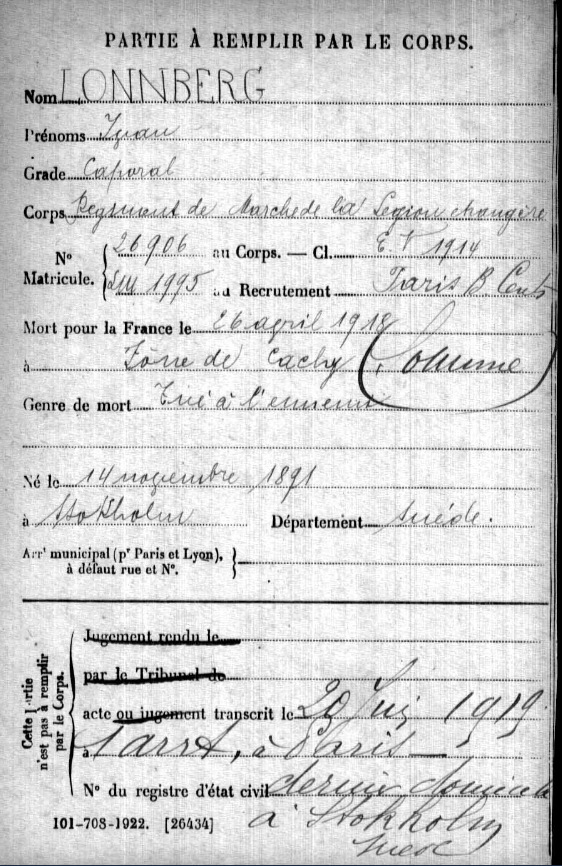 Eloi Gaston Nilson (Elof Nilsson)
Karl Olsson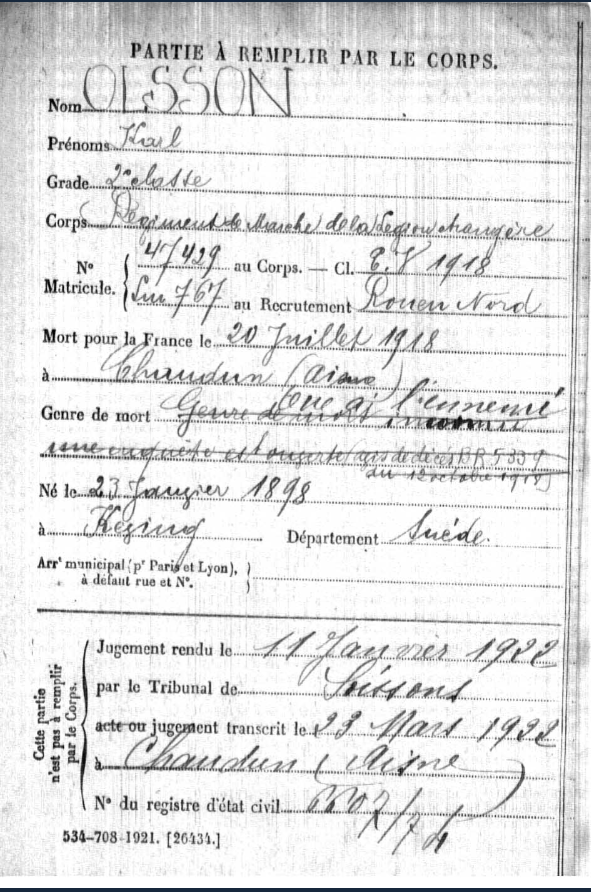 Rudolf Petersen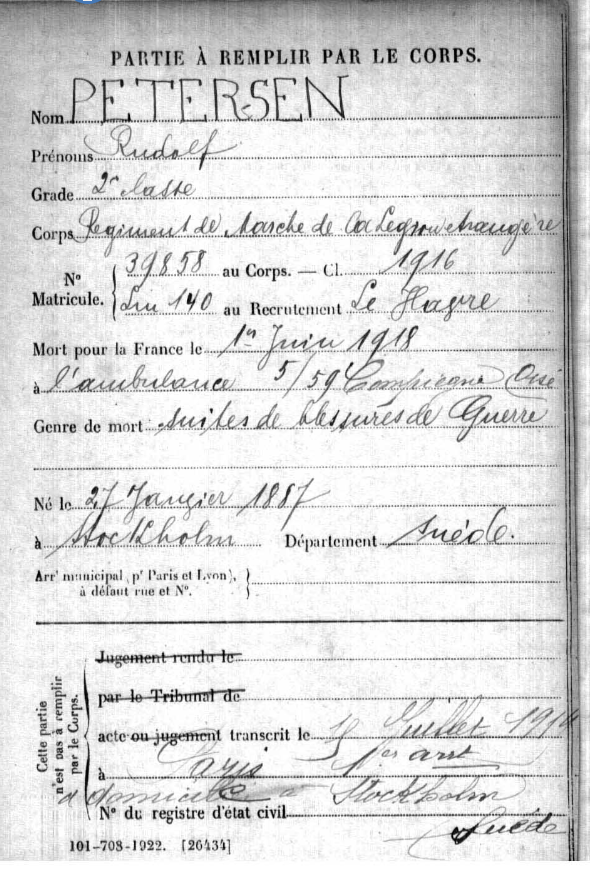 Auguste Sporre Wend Pettersson (Sven August Petersson)
Nils Pihl (Document from Memoire Des Hommes is missing)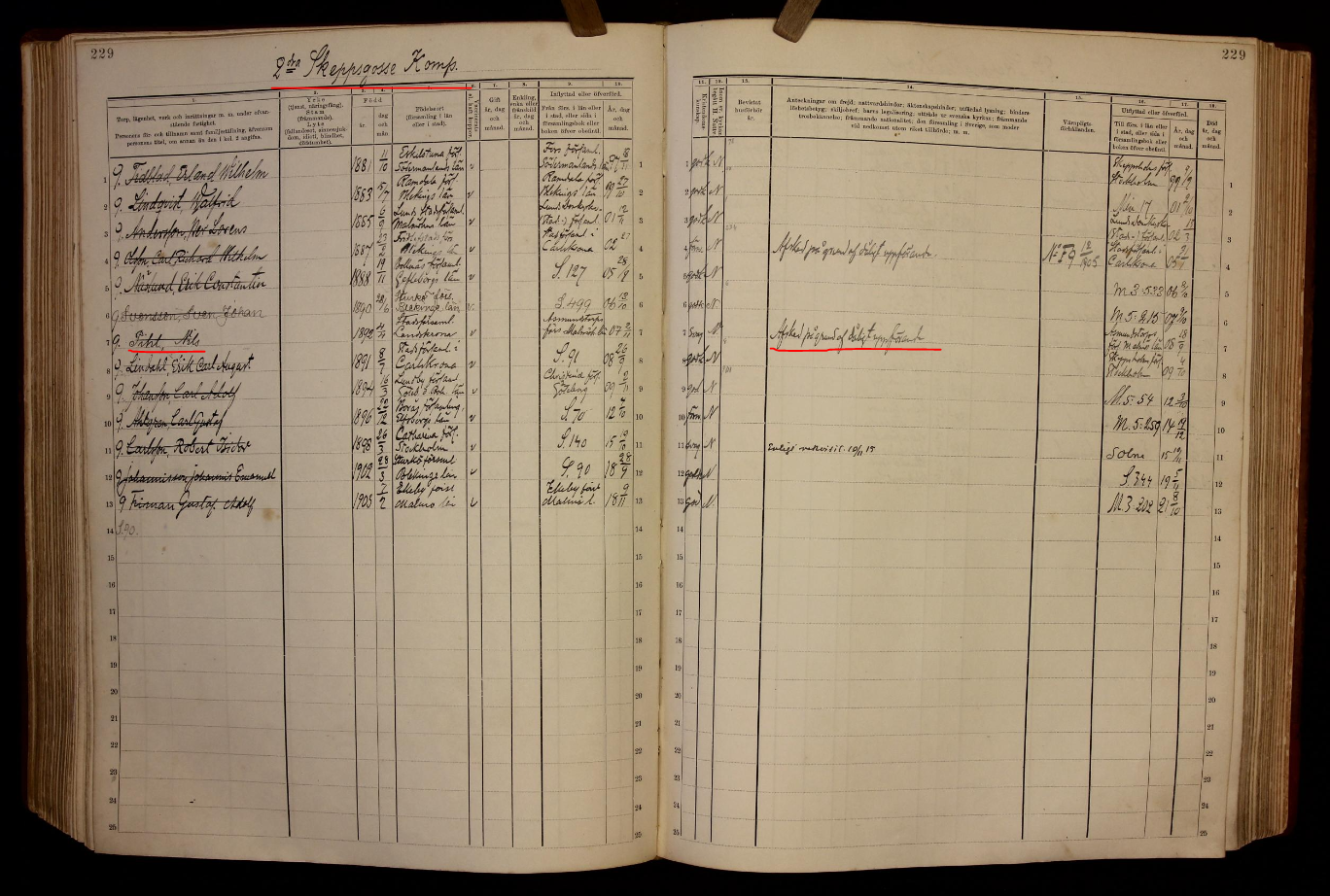 Bur Courad Sjoberg (Bror Konrad Sjöberg)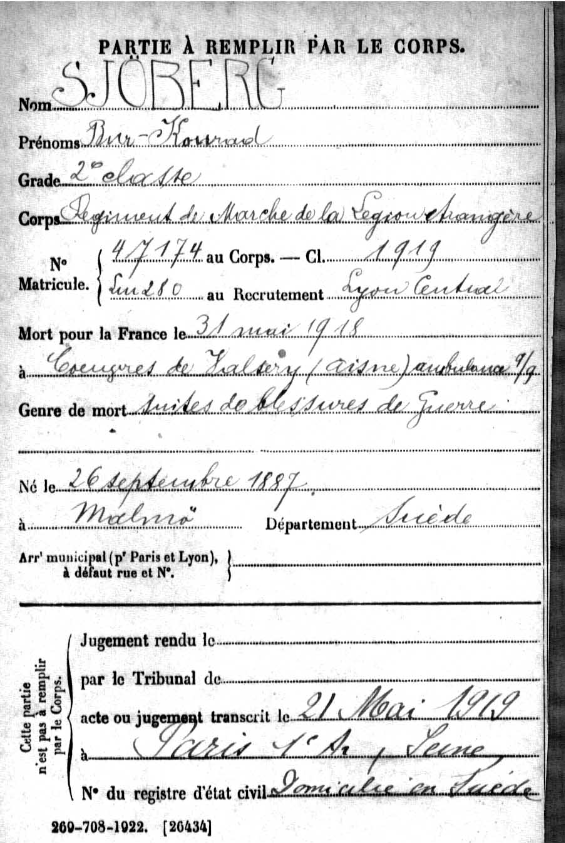 Ivar Svenson (Ivar Svensson)
Gustaf Albert Wiren (Gustaf Albert Wirén)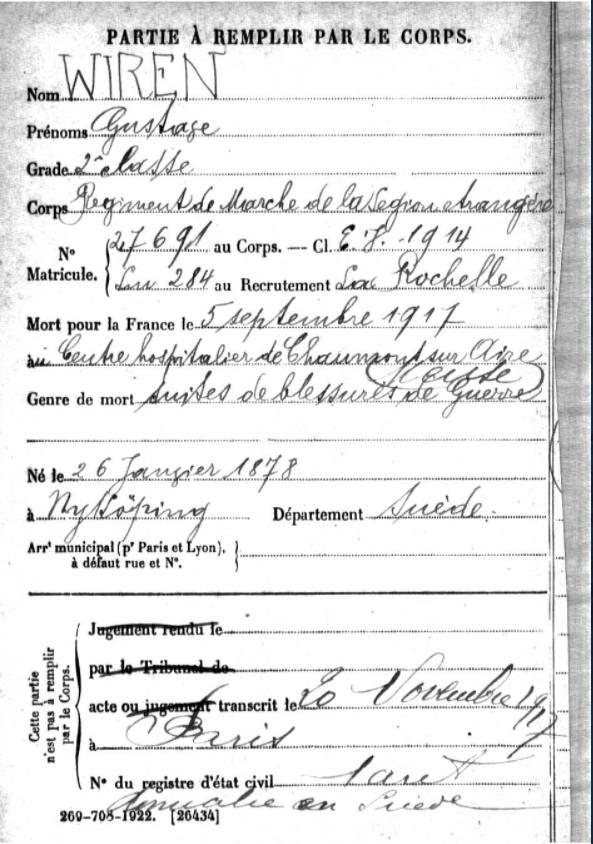 Source of casualty card documents: https://www.memoiredeshommes.sga.defense.gouv.fr/
Above presented snippets are just a few documents of the data I have, and I will add more data to each individual when I find it.
If someone who reads this have more information of Nils Pihl, I would be very greatful. There is no casualty card to find at this moment, and due to lack of skills in the french language, I have also hard to search in other french sources.
More to find
On the memorial there is a name, B Thorin. According to some data I have found he was born in Sweden. Below some text from the book "War Letters of Kiffin Yates Rockwell".
Thorin, Daniel William. "Billy" Thorin was born in Sweden, but went to America when very young, and became a United States citizen. He recovered from his wounds received in Champagne, September 28, 1915, and rejoined the Legion at the front, but after a few months contracted tuberculosis. After a long stay in hospital, he was invalided out of the army, and returned to America. Mr. John Jay Chapman sent him to a sanatorium in Arizona, where he died, September 25, 1918.
In the documents below it says he was born in September 11, 1886, but it is actually 1883, according to Swedish Church Books. He has no known father, but probably takes his surname from his mother's husband.
"Billy's" last request was that he be given a military funeral and this wish was complied with, the Governor of Arizona sending a regiment of troops to escort the Legionnaire's remains to their final resting place.
In the top group photo above there is also a man called Nyberg, who, according to the information in the documents, also fell in the war. I will try to find more information about him.
May they rest in peace.