Sometimes when doing research I stumble over facts that I have to look deeper into. I find facts that points to individuals who comes from the same region and seems to have left Sweden at around same time to emigrate to the large country in the West.
It also seems that both of them have enlisted for the American Expeditionary Force and then went to France to participate in the fightings at the Western Front. Later on I find facts about that they participated in the Meuse Argonne offensive and sadly both of them fell in the offensive just 12 days apart of eachother.
This may be quite common for the soldiers from UK, that joined units under the concept of Kitcheners Army, from the same village, the same football team or similar, but when it comes to the Swedes it seems to be quite uncommon, based on the information that I have so far in my research.
These individuals were Gust E Ahl (Johan Gustaf Edvin Ahl) from Boda farm, Hjälmseryd Perish, Jönköping and Andrew M Johnson (Anders Magni Magnusson) from Slättö farm, Hjälmseryds perish, Jönköping. Both of these places is near the village of Lammhult, Kronoberg.
Both of them were born i Hjälmseryds Perish, Anders in November 4th 1893, and Gustaf in October 19th 1894. They moved around to some other farms in the region, but when they left for the States in 1913, they lived not far from eachother, just under two kilometers in between.
Anders left from his farm March 17 1913 and Gustaf left his farm for America April 28 1913. According to the casualty cards both of them ended up in Minnesota, but right now I dont have any information about if they met eachother at the other side. I know that Gustaf enlisted June 5 1917 and ended up in 139th Inf. 39th Div. when they fought in France. I havent yet found when Anders enlisted, but he later on joined 125th Inf. 32nd Div.
The Meuse Argonne Offensive started September 26 and went on until the Armestice in November 1918.
Gustaf fought near the Argonne Forest and was Killed in Action already September 28 1918, quite early in the offensive. Anders went on with his unit and was Killed in Action October 9th 1918, a bit further up NE in the movement of the offensive.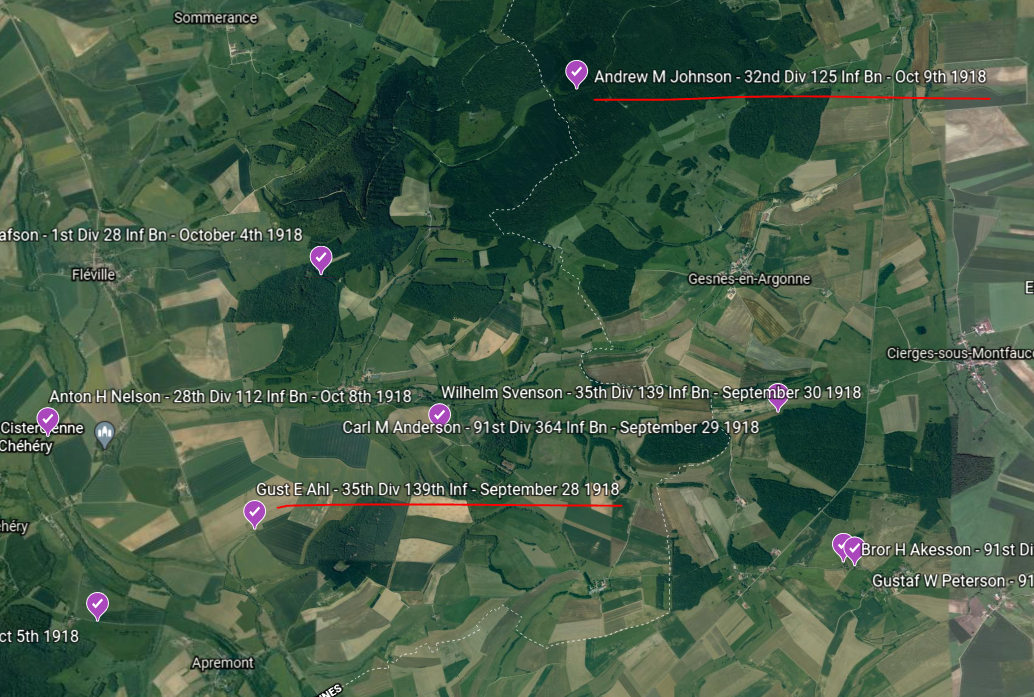 Both of them are buried at the Meuse-Argonne American Cemetery in France.
It is a very special feeling to find these facts from different sources, put the together and look at whole picture and try to imagine how they lived in their region at that time and then went over to a completely unknown world to later fight in the army of their new country. Both paid the ultimate price.
I live around 50 minutes by car from their former farms in Hjälmseryd Perish and I will in near future visit their region and maybe find the houses where they lived, maybe meet people who are connected to those individuals and try to find more information.
Later on I will of course visit their areas where they fell at The Western Front, as I will do with all the Swedish Soldiers that I have in my research. I so long for to commerate them, and highlight their actions in the Swedish History.
May they rest in peace.